Big, big props to Animal Planet! They're the saviours of awesome! These brillant folks started this amazing new event that in 30 years will be bigger than the NFL's Super Bowl.  The Puppy Bowl is comprised of this nation's greatest four legged all-stars.  These combatants of the squeaky toy, these tyrants of the water dish, will prove to all Americans (especially single women over 35, and effeminate heterosexual men) That,"Puppy Power" isn't just some horrible catchphrase coined by an awful gimmick.
Scrappy Doo:  The worst gimmick of a horrible show!
We're not here to discuss bad gimmicks; nay, we're here to give the people what they want.  More cute puppies doing stuff!
2008′s PUPPY BOWL OFFENSIVE LINE-UP!

Abigail  (Wide-Receiver)
Breed: Parson Russell Terrier (aka Jack Russell Terrier)
The front runner for the MVP! (Most Valuable Puppy!)  Speculations run wild about how Abigail came into our world.  Some say that Abigail is a direct descendent of Jack Londons' fictional heros' White Fang and Buck (Call Of The Wild)  Others say that Abigail simply IS and always has been.  There is no doubt, however, that if you have Abigail run the slant, touch-downs will rain like chocolate! (OH NOS! DOGS CAN'T EAT CHOCOLATE!)

Attucker   (Running Back)
Breed: Beagle
The Brave Little Toaster of running backs.  Attucker adhers to the golden rule,'NO RETREAT! NO SURRENDER!'  Those in the know treat Attucker as a conundrum, wrapped in an engima, dropped into a martini. 

Bingo  (Quarterback)
Breed: American Staffordshire Terrier/ American Pit Bull Mix
I really, really want to like Bingo.  He's got a tough background and he's played in the big games.  But, all this talk of Bingo being the,"Golden Boy", and noone has forgotten the whole squirrel/pigeon fighting ring in his doghouse (hint: Pigeons fight dirty!). Leads me to branding Bingo,"The Parker Lewis Can't Lose!" of the puppy bowl.  You may be awesome, but all I really remember about you is THE KUBE!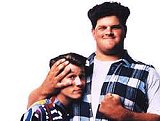 Bruin (Lineman)
Breed: Alaskan Malamute
All you need to know about Bruin is this,'DUDE, LIKES TO PARTY!"

Cali  (Lineman)
Breed: Shih Thu
This is the Gary Busey of Linemen.  If you knock on Cali, there will an apocalyptic firestorm that you will never recover from.   Seriously, DO NOT F**K WITH CALI! I'm only saying this because the last time Cali got messed with; the consequences involved vice grips and Grecco-Roman Oil Wrestling.

Cody  (Tight-End)
Breed: American Cocker Spaniel/Poodle Mix (AKA cockapoo)
Cody is better than Jeremy Shockey.  Seriously.  Ask Eli.
P.S.
Eli wants you to know that Cockapoo is his favorite name ever!  GET IT!?

Colt  (Lineman)
Breed:  Bernese Mountain Dog
Colt is the cutest player on the gridiron.  Don't be fooled by his charm though.  Colt's mother is better known as,"Air Bud".  This only means one thing, if there is a slam-dunk contest during this puppy bowl.  Put your money on Colt!

Deliah (Lineman)
Breed: Shepard Mix
Deliah is tougher than Mr. T in Rocky III.  Why?  Simple, after that pussified love song by Plain White T's came out.  Everyone in the locker room started calling Deliah and asking him what it's like in New York City.  Suffice to say, being mocked makes Deliah mad! GRRRRR!

Dixie  (Wide-Receiver)
Breed:  Golden Retriever
This is not your Randy Moss type Receiver.  Nay, this is your Jerry Rice type Receiver!  You can count on Dixie in the clutch.  The fans know him simply as ,"Golden Jesus".  Also, Dixie's Samba is sheer magic and his Rumba leaves all aghast and wanting more.

Elle  (Full Back)
Breed:  Havanse
Elle makes Mike Tyson scared like a little white bitch.  Want more proof of her ferocity?  Her owner is Bea Arthur.

Ellie-Mae (Center)
Breed:  Saint Bernard/Shepard Mix
It's been rumoured that Ellie-Mae has a drinking problem.  That's just because she's half Saint Bernard.  What is true is that she is prone to making Charles Grodin crazy and she's dating another Saint Bernard named Mozart.

Emma  (Running Back)
Breed:  Parson Russel Terrier
Emma is fast.  Like, Telegram fast!  Also, you can count on Emma to watch,"Monk" with your parents while you slip out to a bar. 
The Puppy Bowl will be more entertaining than the Super Bowl.  Seriously. The Half-Time show alone is worth watching!
ELVI!