Okay, you know what? The AL West is like a set of pretty girls doing stuff. Aesthetically pleasing. Initially interesting, but ultimately insubstansial. They do not bring it when it counts.
Quite frankly? The AL West is roughly equivalent to the English Pin-Up Girls. And I will preview them thusly.
4) The Texas Rangers are Katie "Jordan" Price
Of all the teams in the AL, the Texas Rangers are the most uninterestingly garish. Sure Josh Hamilton and the Middle Infield are the rough equivalent of Miss Price's Mammary Glands, but that's all they've got. Pure and simple? The Rangers are the ugly plastic girl with a poor personality. If they get to 75 wins? They'll be lucky.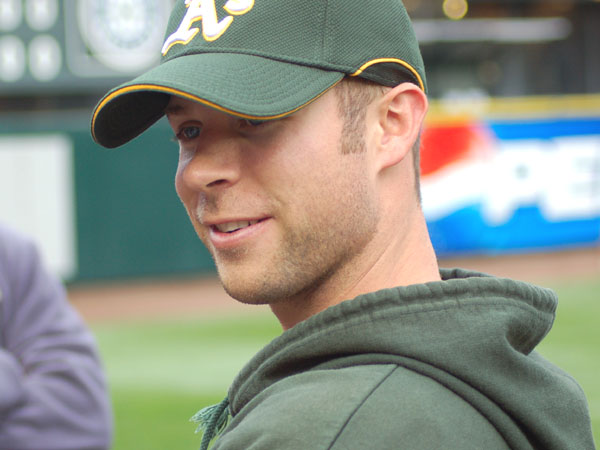 3) The Oakland A's are Vikki Blows
Like a team that has a youth infusion, there will always be new attractive models in this world. Of the English set, the women in question is Vikki Blows. All the prospects that came after the A's changed gears will not make a splash for the A's in 2008. But point of fact? Chris Carter and Gio Gonzalez may not be first, but they sure as heck will be next. And Vikki will emerge for great attractiveness when the A's kids get ready for battle.
2) The Seattle Mariners are Lucy Pinder
As Lucy Pinder is an attractive woman, the Seattle Mariners are a good baseball team. Not oh my god special. But they are pretty good. They loaded themselves up to make a move to escape the shadow of the Angels. But the fact of the matter is, the Angels are a prettier team on paper. And Erik Bedard cannot answer the high cheekbones of John Lackey. They are good, just not good enough to get the pennant.  
1) The Los Angeles Angels (of Anaheim) are Keeley Hazell
This is the preeminent model type woman across the pond. The Los Angeles Angels are the pre-eminent team in the AL West. Sure, the loss of Kelvim Escobar is like a bad hit of plastic surgery on the beautiful playoff contender, but Jon Garland will knock down 85% of all of that production. The only question? Will she float across the pond and knock out the sexy crossover potential?
Yes. I get the sense you may find this a cheap ploy. You may be right.
But the fact remains, the analysis is trenchant. And there will be only one more comparison post until football season.
Thanks for reading.